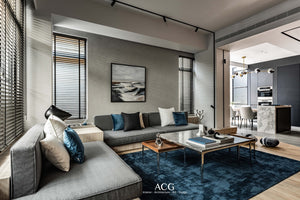 浮光之間
售價 價格 $99,999,999.00 定價 $99,990,999.00
就如同以往那樣,我們還是喜歡以光影敘述著每一個正在進行的故事。
"As we used to, we still like to tell every story that is going on with light and shadow."---George PC Kao
Simplification, rationality, geometry, linearity, symmetry, and pure raw material sense have always been the most important visual concepts in minimalism. Through extremely rational manipulation, quenching the vocabulary without too much modification, using the linear flow of light and shadow, it also introduces the outline of time, and the continuation and long simple notes are interwoven into a gradual and rhythmic symphony. The song is like the "half-acre square pond, the opening of the sky, the clouds and the shadows of the sky". The poems described in the poems are shining and floating, injecting more vitality and freedom into the life of Yongyong.
The case is located in Taichung City and is a four-storey multi-storey residential space. In the design operation of this case, we tried to use "floating light" and "series" as the main axis of the overall design operation.
The patio design introduces a large amount of natural lighting to create dramatic light and shadow changes at different times. Whenever the light and shadow are obliquely reflected on the large-scale natural mineral paint wall, it seems that there is one of the most beautiful natural wallpapers in the home. The conversion of time presents different flow patterns.
The "line" symbolizing time is like a nostalgic game. It is free to walk in the space and walk in the heaven and earth wall. It not only guides the combination of spatial and implicit definition of spatial division, but also gives it a more humorous way. There are enough free lighting arrangements in each area.
At the same time, we also redefine the way and position of the lighting design, and integrate the indoor large-scale objects such as sofa seats and stairs, and at the same time, more subtly eliminate the original trivial existence, and escape the previous cognitive framework consciousness. Form, creating a light floating floating space atmosphere and visual tension.
At the same time, the development of the "floating" lighting design at night also preserves the original daytime "light" in the space.
Residence / Taichung 台中北屯 L.House
Design / ACG大也國際空間設計 
George PC Kao,Otis Lin
Furniture configuration customization /
傢俱配置規劃 by 彤雲潤景 Uriah
Lighting planning & customization /
燈光飾客制規劃 by 彤雲潤景 Alvis